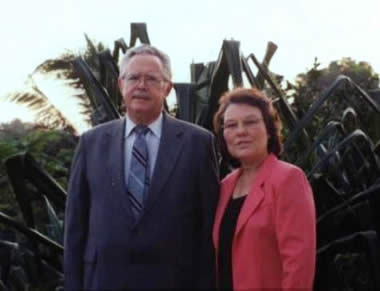 Don and Flo McMillan
Missionaries to Brazil - Retired
Obituary - Donald Beckton McMillan
Donald Beckton McMillan, 77, went home to be with his Lord on October 22, 2016. He was born on November 2, 1938. Mr. Don McMillan was a member of Shenandoah Baptist Church. He was a retired Missionary to Brazil in South America. He is survived by his wife of 53 years, Florine McMillan; two sons: Michael D. McMillan and Mark David McMillan; four daughters: Melissa, Michelle, Melody, and Mindy; eleven grandchildren, four great grandchildren and many other loving family members and friends.


---
Donald Beckton McMillan was born November 2, 1938, in Greensboro, Alabama. Having felt God calling him to a life of Christian service he entered Arlington Baptist College. Upon completing his studies, he received a Bachelor of Science degree on May 13, 1976. On June 27, 1976, Don was ordained to the Gospel ministry by Worth Baptist Church. That same year he was formally approved by the World Baptist Fellowship missions committee for missionary work in Brazil. Two years later, Don and family went to Brazil to begin their ministry there.

During these years of ministry, much has been accomplished. Many have heard the gospel of saving grace, received the Lord Jesus Christ as their Savior, and been baptized. Two local churches have been established with many growing up in the faith. Sunday School teachers and men who can preach have been taught and trained to do the works of the Lord Jesus. Bible School, and Home Bible Courses have been used to help many in their spiritual growth.

Many have been saved and have grown spiritually because of the camp ministry. Preaching points and help to others in the ministry have resulted in souls being saved and growing in grace.

In 1984, the Don McMillan family became affiliated with the Independent Baptist Fellowship International and have remained faithful to mission work. Don and Flo have 6 children.
Flo is currently residing in Tennessee. She continue to be active in ministry here in the States and as a help to the works in Brazil.

Don passed into glory on Saturday, October 22, 2016.
Mission Office:
IBFI Mission Agency
PO Box 151259
Fort Worth, Texas 76108
817-367-3422
---
Prayer Letters